As if having mould in your home wasn't bad enough, did you know that mould can attract mould mites? They are also known as mold mites depending on where you live.
In this post, we will tell you a little bit more about these arthropods, whether mould mites are dangerous to health and property, and of course with how to get rid of them.
What are mould (mold) mites?
Mould mites are, as you'd expect, tiny mites that feed on mould. They live in damp walls, soil, food cupboards, or shelving in shops. You are unlikely to see them in an early infestation as they are so tiny, but as they breed you may then see them clustered together, 'dripping' off surfaces, in their thousands. They are usually white, with a pale brown cocoon.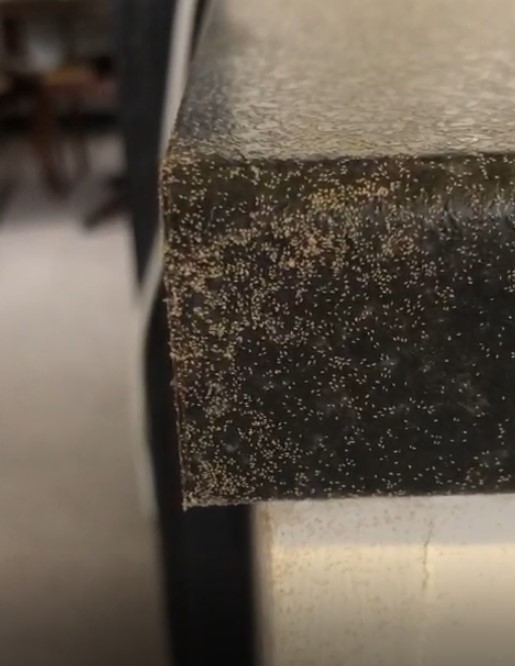 Mould mites multiply quickly. The lifespan of each mite can be anything from nine to 30 days, with a female laying between 500 to 800 eggs during her lifetime.
Are mould mites dangerous?
Mould mites are generally not dangerous to humans. They do not bite, but they are covered in tiny hairs and the hairs themselves can cause skin irritation once they have shed. Mould mites do not cause structural damage to property.

That said, the mould that they are feeding on can be extremely problematic to those with asthma and allergies, and can cause infections and sinus problems. Mould can rot wooden structures and frames, and cause damage to walls, so there is the possibility of long-term structural damage to homes and workplaces.
How to get rid of mould mites
To get rid of mould mites, you need to treat the source of their foodstuff and remove the mould.

For small areas, you may be able to get rid of the mould yourself by scrubbing the area with home remedies made up of bleach or white vinegar, or even shop-bought mould-remover preparations. You may need to treat the area two or three times in quick succession and ensure that you treat the source of the mould problem.

If your mite infestation is located in a food cupboard, be sure to throw out any contaminated food. If the mould is on soft furnishings or toys, wash at high temperatures and dry thoroughly.

However, for large areas of mould and mite infestations, you should call in a professional pest removal company. They will be able to treat the property with an insecticide to kill the mites, and will usually recommend using a dehumidifier to remove the moisture from the property.

They can also advise you on how to keep damp and mould at bay by ensuring that your home is well ventilated and structurally in good repair.
What causes mould?
Damp and mould can be triggered by many things, including:
Leaky pipes.
Missing roof tiles.
Holes in walls.
Blocked gutters.
Poor insulation.
Poor ventilation.
Broken or unsealed window frames.
Damp and mould can also be caused by lifestyle choices such as:
Drying washing indoors.
Not leaving doors open after showering or cooking.
Positioning furniture right up against external walls.
If your mite infestation is located in a food cupboard, be sure to throw out any contaminated food.
If you suspect you have mould mites we can help!
Eradipest can help your remove mould mites
We are experienced at removing mould mites so call us today where we can appoint one of our expert pest technicians to treat your infestation. We are here to help 24/7.
☎️ Call us now on 0333 600 6005 or 01243 717606.
You can also book a callback for one of our team to ring you at a convenient time.